Patio Cover Gallery
| | |
| --- | --- |
| | |
| This is the starting process on a patio cover. Just a few days away from enjoying there new entertainment area. | Outside entertaining at it's best. Watch flat screen tv while sitting in the comfort of the ceiling fans and light kits. |
Starting another patio cover, concrete forms are
being formed getting ready for the cement truck to arrive. Setting post getting it all squared up. We will be tying into the existing roof line not too many days. We will have shade in just a short few days. Also will be cooking outside
Can you believe this is the same house as above. The only thing this house is missing is the people and the food. Won't take much to kick this party off. Just invite the people.
| | |
| --- | --- |
| | |
| This project will look like The Home Make Over has been here. When you see this job finished. This a entertainers dream place. | So the roof and fans have been installed. Now we are bricking the columns. The roof gutters and downspouts are in place. Rebar is being laid, waiting on concrete. |
Floor is poured. Outdoor grill is installed
with outdoor bar.Only missing people.
You can have one Just like it if you call.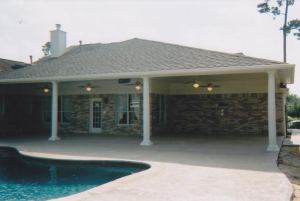 Finished Patio Cover, crew has left job site.
Homeowner waiting on new patio furniture.